The spread of COVID-19 has undoubtedly transformed the workplace, and companies who were quick to transition to remote work saw less downtime at the start of the pandemic. Employers and their staff alike have worked hard over the last 3 years to adapt to a remote work environment and maintain productivity in a fully digital world. Many companies added new tools and systems to support their staff outside of the office and changed their hiring process to suit the new norm.
But just as we all have grown accustomed to remote work, the wide availability of vaccines and increased herd immunity has caused employers to reconsider their in person work policies. As recruiters, we're constantly tapped into the changing needs of employers across the nation and 2023 has already shown a trend in more companies encouraging or even requiring a return to office for new and existing staff.
Remote vs in person work has become a pervasive and sometimes polarizing topic so we wanted to dive into all the pros and cons of a return to the office movement. This blog is part one of a two part series, and we're starting by examining the motivating factors and considerations for going back to the office from the employer's perspective. In part two we'll cover key talking points from what candidates and current employees have said about getting back to the office.
2023 Trend in Hybrid or Fully In Person Requirements
Every employer has approached in person work differently, but we've seen two main methods of getting back to office after Covid. Some organizations started the year by announcing that all staff, both existing and new hires, would be required to work in company office spaces full time. But the more popular call to bring workers back to the office is a hybrid one. Employers across the US, including some notable names, have made new policies around the minimum number of days in-office per week or month with varying details on when those in-person work days must happen. For example, some companies have specific days of the week where they want to see staff in the office while others provide free choice as long as employees consistently meet the minimum.
This is also accompanied by an increase in tracking attendance, productivity, and even the potential for termination if in office requirements are not met. Whether they require two, three or even five days for their return to office, most employers had similar reasons for these new in person obligations.
Collaboration & Morale
One of the primary reasons why employers are considering a return to the office is the potential for increased collaboration and creativity among their employees. While remote work has its advantages, it can be challenging to replicate the spontaneous exchange of ideas and energy that often happens in a physical office environment. In fact, Zippia reports that 50% of remote workers feel lonely at least once per week and 70% of them feel left out of the workplace.
In-person work also promotes team building, strengthens interpersonal relationships, and helps establish a stronger company culture, all of which can improve retention. At the core, many employers miss the face to face interactions that were commonplace pre-pandemic and hope that a return to office will begin to rebuild those lost relationships.
Accountability
For some organizations, remote work also disconnected managers and leadership from the day to day tasks of their staff. With workers at home, there was less visibility around productivity and sometimes fear of lost time and effort. Going back to the office, even only a few days a week, allows for greater accountability. When employees work in the same location, they can be more easily monitored and supervised, which can lead to improved work quality and productivity. Managers can more quickly identify systems that require improvement and who on their team might need additional support or resources.
Training & Professional Development
One of the biggest challenges for companies navigating the new remote work environment has been the hiring and onboarding process for new staff. Managers are unable to be as hands on with new team members and have had to rethink their training processes. A return to the office makes it easier to provide on the job training, shadowing, and mentorship to ensure that new employees grow into their roles and have the support they need. Likewise, in-person work provides unique opportunities for training and development for existing staff. Teams can learn new skills from one another, become more flexible & versatile, and move up in the internal hierarchy.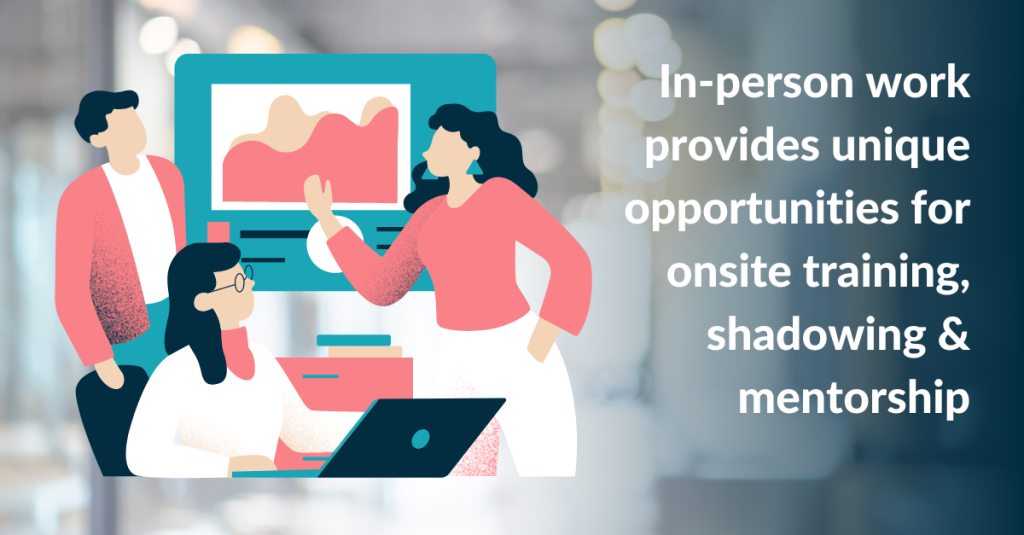 Work-Life Separation
It's no secret that Covid-19 has changed our relationship to work. For many Americans, working digitally has blurred the lines between work and personal activities. Parents were required to facilitate their kids' remote learning during the work day and many adults ended up answering emails or completing work tasks late into the evenings. While overall worker productivity has increased by 3% with the introduction of remote work, it makes sense that some employers believe going back to the office could help redraw those lines and set clear boundaries. Hopefully, this would not only mean fewer interruptions to the workday (a benefit to employers) but also return the ability for employees to set their work aside at the end of day and be fully immersed in their personal time.
Do Employees Want to Return to The Office?
While there are many benefits to returning to in-person work, the question of whether employees want to return to the office is an important one. Some companies' return to office has been met with resistance from employees who have become accustomed to the benefits of remote work. While employers have good reasons to encourage the return to the office, there may be a disconnect between organizations' goals and those of their staff. As recruiters, we are intimately connected to both employers and employees/candidates. In our next blog we'll be following up on the remote vs in person work topic from the employee perspective, so keep your eye out for more insights.
And if you're an employer who needs help understanding the implications of a return to office, navigating the transition, or hiring fully in-person staff, the Martin Grant team has your back! Get in touch with us to start a discussion around your company's return to office and how we can leverage our staffing expertise to assist.