It's one thing to realize that your insurance company needs help finding property and casualty employees, and another thing entirely to connect with a staffing agency that has the insurance expertise to actually improve your hiring process.
Traditional staffing services can often bring unqualified candidates and add to the stress of your internal hiring team. Don't miss out on opportunities to connect with and make offers to P&C underwriters, claims analysts, and other property and casualty professionals suited for your company.
As specialized property and casualty recruiters who are constantly active in our network of insurance professionals, Martin Grant is often one step ahead of other headhunters. We dedicate our staffing services only to organizations within the insurance sector so that we can quickly and accurately identify the P&C candidates that will fit your needs.
We know how critical these roles are, and in today's market, companies in search of P&C agents are plagued by high turnover, a shallow candidate pool, and long fill times. It's time to start searching smart with the help of Martin Grant.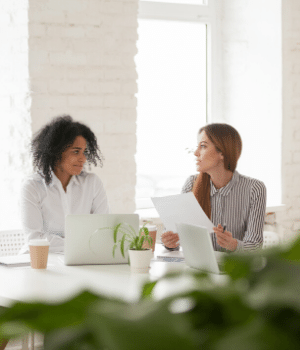 Property & Casualty Insurance at its Best
P&C agents are the bread and butter of insurance sales, whether they are closing deals on behalf of a specific company or acting as a broker to represent different insurance firms.
They are the main point of contact between you and your customers. Property and casualty employees shine most in their ability to demonstrate your company's intent to find the right combination of insurance protection for your customers' individual needs. From acquiring new customers to heading the charge on existing policy renewals, experts in property and casualty claims always have the client's best interests at heart.
"Be it claims, underwriting, loss control, sales, they a have one thing in common: they genuinely want to help their customers; it is in their DNA." –Principle Recruiter, Diana Gazzolo
The demand for property and casualty underwriters, claims analysts and adjusters is ongoing, but companies today also face the challenge of many top-performing P&C employees nearing their well-deserved retirement. To fill positions for commercial account executives, risk management, and personal lines account managers, you need tenured insurance professionals.
These experienced P&C professionals are hard to come by and those that are actively seeking jobs are receiving offers left and right. You already know that your hiring process needs to be swift and efficient to get an edge on the unprecedented competition for insurance talent. But how can you do all that and still have a rigorous vetting procedure that lands you a long-term hire?
Martin Grant's team of devoted insurance recruiters are ready to hand select the best P&C candidates for your company's needs and culture.
Property and Casualty Roles We Recruit
We place quality candidates in property and casualty positions from top to bottom and can help you identify the right applicants to each unique role.
Carrier select roles:
P&C Underwriter
Commercial Lines Underwriter
Construction Underwriter
Financial Lines Underwriter
Junior Underwriter Assistants
Large Account Underwriter
Marketing Rep
Multi-Line Production Underwriter
Professional Lines Underwriter
Property Underwriter
Regional Business Development Executive
Territory Managers
Vice President Underwriting
Agency/Broker Staff:
Agency Manager
CFO/COO
Commercial Account Exec
Commercial Lines Account Manager
Commercial Lines Agency Manager
Commercial Lines Client Manager
Commercial Producer
Personal lines Account Manager
Personal lines High-Value Client Manager
Wholesale Account Manager
Wholesale Broker
Risk Management Roles:
Claims Risk Manager
Corporate Risk Manager
Director of Risk Management
Insurance Analyst
Claims Personal and Commercial Lines
Claims Analyst
Environmental, Cyber, w/Comp Claims Examiners
Property & Casualty Claim Adjuster, Supervisor or Executive
Vice President Claims
Unsure where your job openings fit in on this list? Don't worry! Your company may have specialized needs and positions that could still benefit from our 56 years of insurance expertise. We always encourage you to get in touch with our insurance recruiters to start discussing how we can help you connect with ideal candidates.
Our Property & Casualty Recruiting Process
At Martin Grant, we know how much thought and energy goes into hiring decisions, so we endeavor to be an extension of your internal recruiting team to make the process as smooth and successful as possible. You tell us your parameters and we'll use a variety of sourcing and screening strategies to find you the right individuals.
P&C Candidate Search Process
Martin Grant's small team of highly specialized Certified Personnel Consultants operate on a national scale, covering a range of specialties in the insurance sector. When you give us an assignment, we turn to both our existing network of talent and to active outreach strategies that can get you in front of more candidates than your competitors.
Of course, we'll evaluate P&C agents who are actively pursuing new roles, but we'll also pinpoint passive job seekers who bring the right skills and experience to the table. Our goal is to make matches that are mutually beneficial so that candidates are motivated and enthusiastic about filling your position. Each individual insurance recruiter on our team has a plethora of personal and professional connections in their territory and are always hard at work leveraging them to make the best connections for our clients.
In-House Screening
The rise in digital applications can sometimes muddy the work of hiring managers who are inundated with impressive looking resumes and little time to sort through them. The live evaluation process is often where the most thorough assessment takes place, but it's a time-consuming process. Our recruiters do the heavy lifting for you by thoroughly reviewing a candidate's written credentials and conducting live screenings before connecting them with you.
There's nothing we value more than clear and careful communication. That's why we screen and groom each P&C agent we bring to you. We take pride in getting to know your company culture, workflow, and specific hiring needs so that we can make the best match. In exchange, your hiring process is shortened, and you are more likely to land a property and casualty professional who is there for the long term.
Meet Your P&C Recruiting Partners
Think of us as members of your team! Your success is our success too and that means building a personal relationship between our recruiters and your company. Our hope is to work directly with you to fill positions long into the future, so we'll start by telling you a little about us.
Get to know the talented property and casualty recruiters who will guide your changing and growing team to success—and make sure to add them as favorite contacts, we're always happy to jump on a call!
Find Your Ideal Property & Casualty Professional
Ready to launch a partnership that will add underwriters, analysts, and execs to your team? Unlock our incredible network of insurance talent and learn more about working with our team by contacting us. You can call us anytime, anywhere, we're always ready to start a conversation about how insurance recruiting can work for you!
Have Other Insurance Positions to Fill?
Property and casualty insurance may not be the only area where you're looking to make a superb new hire. Our insurance recruiting specialties cover two other practice areas and allow us to offer comprehensive hiring solutions for all areas of your business.
Are You a P&C Professional?
Our boutique recruiting services can go both ways. Often, having the help of a specialized recruiter means you get in front of the right hiring managers, faster. If you work in property and casualty insurance, you may be just the expert we're looking to match with one of our partner companies! We can work with you to improve your resumes, help you capitalize on your strengths in the interview process, and find the perfect open position. We're honored to call many hiring managers across the industry our friends and can help you make the connections that lead to the next step in your career.
Check out the available property and casualty jobs from our partners or get in touch with us to start working towards your ideal position.
Our Practice Areas
Start Your Search
If you're tired of long fill times and striking out on talent, partner with Martin Grant Associates to gain access to our expansive network of talent. We are especially adept at finding the hidden talent pool that are not always on LinkedIn.
Contact us today to learn more about the benefits of entrusting us with your next P&C hire.