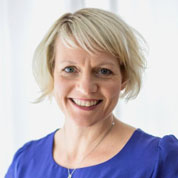 Juliet Kelsey-Holmes
Principal & Lead Recruiter
CPC
As Martin Grant's head of the Employee Benefits and Financial Services divisions, Juliet is accomplished in recruiting for all levels of niche insurance specialties. She rises to meet the challenge of her clients' difficult to fill job openings with zeal and encourages passive candidates to enter the hiring market and take interviews with her client companies. Juliet holds a reputation of placing the right candidate with the right role, which has earned her the trust of both candidates and employers in the employee benefits, property & casualty, and financial sectors.
Not only has Juliet succeeded in building her division from the ground up in the last 24 years, expanding to a national practice just ten years ago, she has also nurtured the talents of other recruiters on the team. Her own achievements are heightened by her delight in mentoring and witnessing the success of three other talented women. She is grateful to Martin Grant for teaching her successful recruiting and giving her the rare opportunity to build strong relationships in the insurance and financial services industry.
When she isn't connecting with clients or insurance professionals, Juliet is enjoying outdoor adventures in Maine—everything from skiing to hiking, biking, running, boating, and beyond! She loves traveling and exploring new places with her family and this year's adventures will take them to SoCal, VA/DC, St. John, Mohegan Island, and Yellowstone National Park. Next year, who knows!
Connect with Juliet
Juliet@martingrantassociates.com
617-470-8381
LinkedIn