As recruiters, there are few things in life that bring us more joy than placing a candidate at an organization where we know they'll thrive. These success stories are made even sweeter when it is a fellow woman taking the next, exciting step in her career. All of us at Martin Grant have the triumph of a fulfilling and engaging career surrounded by a team of skilled female employees. We have the privilege of a work environment that constantly uplifts and celebrates our talents.
But we know that this is not universally the case. From hundreds of conversations with female candidates we understand the many ways in which our workplaces often fail women. Not only does this weigh heavily on our hearts, it also irks our recruiter brains, knowing that a little change can go a long way in helping companies acquire and retain brilliant women on their teams.
So in this blog we're going to discuss not just ways to empower women but how supporting women in the workplace can also have a positive impact on your organization's bottom line. This blog is aimed toward business executives and owners who are keen to make their company a better place to work, not just for female employees, but for everyone. But if you're not a c-suite staff member, don't be afraid to take these ideas for empowering women in the workplace to your higher ups and push for change.
Statistics on Women in the Workforce
Returning to pre-pandemic levels, women hold 50% of all jobs in the US. In the insurance and recruiting industries, where the Martin Grant team spends our time, that number is as high as 60%. And yet women make up only 42% of managerial roles and only 37% of executive positions. According to McKinsey & Company, "for the eighth consecutive year, a broken rung at the first step up to manager is holding women back. For every 100 men who are promoted from entry-level roles to manager positions, only 87 women are promoted, and only 82 women of color are promoted. As a result, men significantly outnumber women at the manager level, and women can never catch up."
And even as more and more of the female population joins the workforce each year, the gender pay gap actually increased between 2019 and 2022. Yes!! Women make 22% less than men on average, or 84 cents to every dollar.
And these gaps are not for lack of ambition or effort on the part of female workers. In a 2023 CNBC poll, 48% of women described themselves as "very ambitious," only a few points behind men, 51% of whom chose the same answer. And the small pool of female leaders we do have are carrying heavy burdens, often doing more to foster DEI, support employee well-being and improve retention than their male counterparts. Much of this work goes unrecognized in everyday interactions and performance reviews so it's little surprise that 43% of women leaders are burned out, compared with only 31% of men at their level.
These problems aren't going to go away on their own. Companies must actively seek ways to empower women and close the alarmingly pervasive gap between how we value men and women's work.
How to Support Women in the Workplace
Let's get down to business–the business of empowering women in the workplace, that is. As you read these suggestions, we ask that you keep two things in mind.
First being that you don't need to do everything all at once. The enormity of the task that is dismantling our society's deeply ingrained gender inequalities can paralyze us from taking any action. So acknowledge that altering your organization's gender dynamics is within your power but will happen through incremental progress likely over a long time.
Second, and incredibly important, the very real work of supporting women in the workplace should not fall to women and other minority staff. For real structural changes to take place, everyone must contribute. With that, let's get into some ways to empower women at your company.
Cultivate a Safe Environment
Perhaps you feel like we are past safety as an issue, but 57% of women say they've faced harassment or discrimination at work. Start by ensuring your company has incredibly clear anti-discrimination and harassment policies. Create open and safe lines of communication between female staff and their managers, executives or HR so that they can feel comfortable reporting incidents. And invest in harassment prevention and appropriate workplace conduct for your entire team.
Amplify the Voices of Your Female Employees
Your female employees have some incredible insights and ideas that can propel your company forward, but they first need a seat at the table–a few seats, actually. 20% of women have experienced being the only person of their gender in the room which can lead to feelings of anxiety, pressure and isolation. Invite more female staff to participate in meetings, speak at events or in panels and share their opinions in other ways. When they speak up, practice acknowledging their contributions and providing recognition if their ideas are used.
These practices can also apply to external opportunities. If your company is invited to speak on a panel that doesn't include a female representative, consider declining or push the organizer to expand the diversity of their chosen speakers.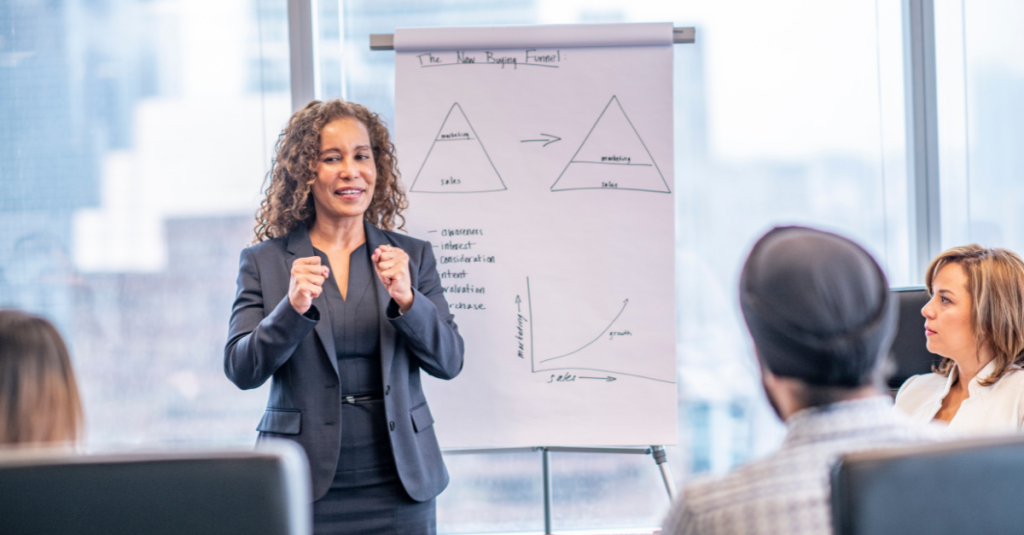 Connect Female Employees With One Another
In the same vein, foster peer support among your female employees. Connecting staff across different departments can not only create safe and welcoming environments, it can also promote more collaboration and innovation. Consider how you plan your mentorship programs, training and even managerial structures to avoid isolating female staff.
Practice Recognition and Promotion
As we mentioned earlier, women's work can often go unrecognized and burnout is far more common for female employees than men. Find ways to regularly demonstrate your gratitude and show that they hold a place of value at your company. Do so both in private settings like annual reviews or one-on-one check ins, and in public environments like full staff or department meetings. Make your recognition personalized to their work and be proactive about advancement opportunities during review periods.
Create Paths to Female Leadership in the Workplace
Leadership is where the rubber meets the road. Not only do women currently hold fewer leadership positions than men, they are also less likely to see themselves in those roles. Your strategy for achieving more female leadership in the workplace should be twofold. On one hand, you need to establish career paths for women on your team (whether or not that's toward a leadership role) through professional development opportunities and goal setting conversations.
Then you need to consider gender diversity in your succession planning. More representation begets more leadership interest from female employees. Deloitte research found that every woman added to the C-suite results in nearly three additional women among the senior leadership ranks. Start by focusing on that "broken rung" at the first step up to manager.
Set Policies that Support Caregivers
Again and again, this is one of the biggest topics of our conversations with female candidates. They worry that their careers will impact their family life and vice versa. Women shoulder a disproportionate amount of caregiving responsibilities, an issue that has been exacerbated by the pandemic. Establishing good parental leave policies is just the first step in supporting women in the workplace.
You also need to demonstrate that your company has an investment in your female employees as people, not just labor machines. Have compassionate conversations with female employees that emphasize your willingness to support their needs as they juggle being an involved parent and business leader.
Offer Flexible Work
The option to work remotely is especially important to women and has become a key decision factor for choosing or changing jobs. And remote work isn't just beneficial to women as caregivers who can use the flexibility to better balance work and home life. Female employees who work from home also experience fewer microaggressions, especially for women of color, LGBTQ+ women, and women with disabilities, allowing them to focus on quality work and career development.
Reflect DEI Values in Your Hiring Practices
As recruiters we couldn't leave hiring out of this conversation! As you seek new talents to expand your company, remember to provide equitable opportunities to candidates of all genders and consider how increasing diversity can positively impact your existing team. You can learn more about practical steps for hiring a diverse workforce here.
The Ripple Effects of Empowering Women in the Workplace
There is a thread that connects all these suggestions for empowering women in the workplace, and it is that they each positively impact your workforce and company culture as a whole. Which as you might have guessed, can improve your organization's ability to hire the right candidates, retain your top performers, and increase your profits. Studies have shown that successful DEI initiatives can increase worker productivity and company revenue and are better equipped to capture new markets. So take on the task of empowering women in the workplace not just because you should but because it will benefit the growth of your company in numerous ways.

Are you currently hiring and want to incorporate DEI goals into your process? Our female-led team of recruiters would be thrilled to be your guide and partner in finding incredible candidates, making new internal placements to further female leadership development, and more. Just get in touch with us to get started.