Hiring in today's largely hybrid work environment looks much different than it did five–or even just two–years ago. Raise your hand if your recruiting and hiring process has changed somehow in the last few years. Chances are it includes more video calls than you ever expected. In fact, your company may have adopted an entirely remote recruiting process. As of 2020, a survey found that 86% of businesses were pivoting to virtual interviews and most of those were incorporating remote technologies in their onboarding process.
Interviews aren't the only way that recruiting and hiring is changing either. Your new process could incorporate a completely different set of internal staff, have a different timeline, and require a new strategy for making offers.
Some hiring managers are rejoicing at the switch to remote recruitment–fewer awkward handshakes, less expenses for hiring events, perhaps a wider reach to candidates. On the other hand, some lament the loss of time spent face to face with potential employees and the chance to demonstrate workplace culture, among other things.
Whether you're for or against it, you have to admit that the remote hiring landscape is different and difficult in ways that will require insurance organizations and their hiring managers to learn new skills. That's exactly what we want to focus on in this blog. We'll identify the four key challenges to remote recruiting and of course, how your remote hiring process should adapt to stand up to those obstacles.
Getting Attention on Your Virtual Job Listing
The first step in remote hiring is getting the word out that your company has open positions. That means everything from reaching out to your existing network, to leveraging social media, to paying for your job listing to be shown on LinkedIn, Indeed, or other online job boards. In theory, this sounds incredibly simple.
But the truth is that it requires more strategic planning than most hiring managers know is necessary. Think about it. The insurance industry faces one of its toughest hiring markets yet, with low unemployment rates, high turnover, an aging pool of experienced professionals, and fierce competition for candidates. In the new era of remote recruitment your job listing is one among many.
Many organizations fail to consider or just don't know how to make their job listing stand out in the crowd. Are they using the right keywords that will bring organic search traffic to their careers page? Did they include the right information in the job description or post caption? Is there an accompanying image optimized for each platform?
Too often the objective is just to get the listing up as quickly as possible and assume that the right candidates will come to you. But a poorly optimized job listing can quickly get lost in the sea of other opportunities and you may find your leads to be minimal or lacking in quality.
One of the greatest potentials for insurance organizations to make quality hires is by targeting individuals not yet in the insurance industry but who have the right skills to set them on a new career path. Before you can make them part of your team, you need them to find you.
Use popular job platforms to research different titles, what jobs your competitors are posting, and how they represent the info. Then follow some tips to create a superb LinkedIn hiring post and use similar strategies to get the word out elsewhere. And always remember to put yourself in the shoes of the job seeker.
The Need for Speed to Decision
Time is of the essence when it comes to remote hiring. There's a strong likelihood that the candidates on your listing for interviews are also applying for, interviewing, and potentially receiving offers from other employers. It's not uncommon for insurance organizations to decide on a candidate to which they'll extend an offer only to then learn that the individual has just been hired by a competitor. For a lot of companies, this means that the remote hiring process has shrunk the amount of decision time they can afford to take.
It's true that being able to make a nimble decision is key to acquiring new talent in such a tight labor market, but the sacrifice of thorough evaluation can also lead to lower quality hires that may later contribute to high turnover. Insurance organizations need to strike a balance between agility and a comprehensive recruiting strategy.
Start by nailing down your remote hiring process. Before you post a job you and your hiring team should know exactly what documents you will require, the number of interviews you'll conduct per candidate, how many references you'll call, and any additional skills tests you might want. You should know what the specific goals of each step are to ensure that they're essential to your hiring decision. Not sure how the third interview will be different from the second? That might indicate that it's an auxiliary step that can unnecessarily eat up time.

Create a standardized timeline for these steps with a few days of wiggle room built in to accommodate varying schedules.
Before the listing goes live, block out time on the schedules of your hiring managers and any C-suite or managerial staff that will need to be involved. Choose a couple days of the week and diverse times of day to leave open for potential interviews. This way, you can immediately communicate openings to candidates who apply and hopefully avoid any schedule conflicts.
Facing Technology Barriers
Some employers assume that after a few years of living in a remote work environment, technology and good connectivity are accessible to everyone. If this is your assumption, you've jinxed yourself. We all still experience issues with updating software, bad connections, or unfamiliar platforms.
Nothing is quite as frustrating as having a no-show for an interview or spending the first ten minutes fumbling to ensure audio and video is properly working. Yours and your candidates' time is valuable, and your hiring team should work to ensure that technology is not the obstacle to a good remote hiring process.
When scheduling interviews with candidates, make sure to ask them about their available technology and preferences. Do they have a computer or tablet available to take a video call? Is their internet connection reliable? Do they have experience using Zoom, Google Meet, Microsoft Teams, or other video conferencing platforms? If there is some limitation, consider requesting they take the interview from a public library or co-working space. You might even research and offer them some options if you know their geographic location.
If your virtual interview process can be flexible, you can also give candidates the option to conduct the interview via phone call rather than video. It may not be ideal, but it's never a bad idea to be prepared with a back-up method to avoid rescheduling.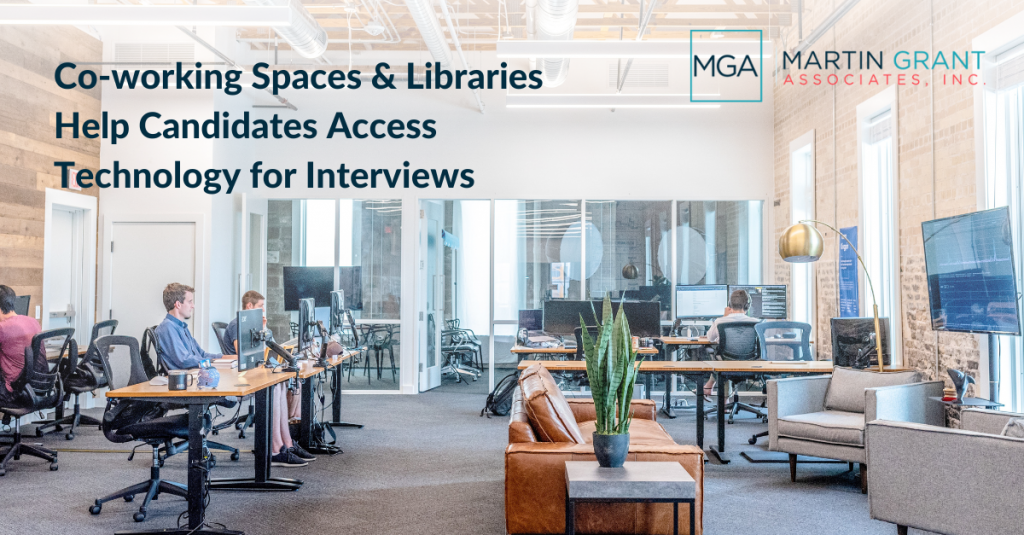 Internally, you should also ensure that your video conferencing software has recently been updated and that you and your hiring team know their login information. Make sure each invitee has received the link to the call in advance. If you're working from home or a new location, test your audio and video before the interview to check for problems, distractions and even check that there's sufficient light for candidates to see your face!
Candidate Sincerity & Ghosting
You've made it through the interview process and put time and effort into vetting your candidates and providing them with information about the role and company culture. All this work and there's still the possibility that some individuals may never return your emails and phone calls. It hurts to be ghosted by a candidate, especially if it was someone you were ready to make an offer to and bring onto your team. And while they might be thinking "there's plenty of other fish in the sea," your organization has invested time and resources into remote recruitment and further hiring delays can impact your bottom line.
Unresponsive candidates are a somewhat new challenge of remote hiring and recruitment and many hiring managers are struggling to find solutions.
Though you will never be able to guarantee a 100% response rate, here's our best advice: If you expect sincerity and eagerness from your potential employees then you should show it to them in return. It's increasingly difficult to connect with people on a personal level in the virtual landscape, so we have to get a little creative. Try sending video offers to candidates. Have the hiring manager or even President/CEO create a 2-3 minute video that addresses the candidate directly, announces your decision to offer them the job, and gives a few quick points about why you're particularly excited for them to join the team. Seeing a friendly face expressing an earnest intent to hire them may be the tipping point for them to accept, or at least dignify you with a polite decline.
Don't be afraid to follow up with an email or phone call if you haven't heard from them in a few days. And if all else fails, have your hiring team set specific expectations for how long you will wait for a candidate's response before moving on. If you feel it's appropriate, make this timeline clear to the candidate when you make the offer. Something along the lines of one to two weeks to return their decision to you.
Whether you've experienced one or all of these remote recruiting challenges in the past few years, we hope these virtual recruitment ideas help you have more success growing your team of insurance professionals. And if you ever need a helping hand with your recruiting strategy or want to talk further about the difficulties your organization is facing with remote hiring, don't be afraid to get in touch with our expert insurance recruiters!