We know that the search for a candidate to fill a recently opened role at your insurance organization can often be a scramble. While the position is empty, your team loses valuable time and energy filling in for the extra work and searching for the right candidate. Trust us, we get that time is of the essence. So why would you pause to worry about your LinkedIn company page when there are a million other things to do?
Rushing is not the answer. You want to attract candidates who are dedicated to your company and well suited for the role in the long term. What if we told you that an optimized and well cared-for LinkedIn company page can not only increase your visibility to candidates on the platform, but also help you rank on search engines and grow your network for future hiring periods?
Even better, you can accomplish these LinkedIn company page best practices in less than 2 hours. With just a little bit of time set aside before you begin the hiring process, you can use LinkedIn to find employees passively for a long time to come. Ready?
Why Does Your Insurance Organization Need a LinkedIn Company Page?
If you don't already have a company page, it's time to get one. With 740 million members, LinkedIn is all about making professional connections. We've said it before, and we'll say it again: networks are essential to successful insurance recruiting. According to HubSpot, 85% of jobs are filled through some type of professional networking.
A LinkedIn company page is the perfect place to flaunt and grow your insurance organization's network. And if you can maintain that page actively, your company is more likely to be top of mind for insurance professionals in search of new jobs.
Of course, when you're hiring insurance professionals, you as the organization have the power to evaluate and choose which candidates to screen, interview and ultimately hire. But you can't ever forget that your candidate pool is also determined by which insurance professionals are interested in your business. They're doing their own screening and evaluation before applying.
To attract the right candidates, you have to think of yourself a little like a restaurant. If I'm searching for a great place to grab dinner (or a great company to work for) I have my eye out for a few things. I want to know about the restaurant, what's the atmosphere, the story, the menu. Are there pictures of the food? Reviews from previous diners? How simple is it for me to find more information or get in touch with someone to make my reservation?
Okay, enough with the analogy, I'm starting to get hungry. Your LinkedIn company page is one of the first places potential candidates might look to learn about your organization and whether it's the right fit for them. Optimizing it can increase your visibility, appeal to professionals and ultimately expand your hiring pool–something that's not easy to do in today's market. So, let's explore some key LinkedIn tips for businesses to help ensure your hiring success.
Create a LinkedIn Company Page to Start
If your organization already has a page, you can skip to the next LinkedIn company page best practices. If LinkedIn has not been part of your marketing or recruiting process, the steps are simple.
Login to your personal LinkedIn page or visit LinkedIn Marketing Solutions to get started. Find the 'Create a LinkedIn Page' dropdown item and follow the instructions provided. It's important that you fill in as much information as possible in the company details sections as this information will not only be shown to individuals visiting your page, it will also help the LinkedIn algorithm categorize and distribute your page to new people. In fact, according to LinkedIn, fully completed LinkedIn company pages get 30% more views. When setting up a brand new page, LinkedIn provides a handy checklist to help you understand how close you are to completion.
We'll go into more details about how to optimize specific sections of your LinkedIn company page below.
The Basics of LinkedIn Company Pages
Sure, there are a lot of things you can do with LinkedIn, from LinkedIn groups to messaging to posting regularly with company news and updates. But as we already know, time is limited. The good news is, there are really only three essential LinkedIn best practices for businesses. Get these three important elements right and your LinkedIn page will start working for you to bring new candidates into your hiring pool.
Description
Branding
Employee Connections
How to Improve Your Business Description
As we discussed earlier, your page is where both active and passive job seekers will go to find information about your organization and your description is the biggest canvas you have in company details. A 2000-word canvas to be exact.
Two thousand words is a lot and if we're being honest, most people won't read that much so don't go out of your way to fill the whole space. But use this blank page to get creative and let your audience know exactly who you are. Try to avoid using boilerplate language like "hard-working employees," or "satisfied customers," as these phrases often lack meaning from their frequency of use. As you write, separate paragraphs so that a little bit of white space breaks up the text. You can even use emojis to make it more visually interesting.
Here are a few things you could cover in your description:
The history of your organization and its growth.
Specific services you offer or areas you cover.
Your company mission and values.
A few top reasons or skills that make your team great at their jobs.
Something fun or interesting about your organization's culture.
Check out this example of a description that focuses on appealing to potential employees: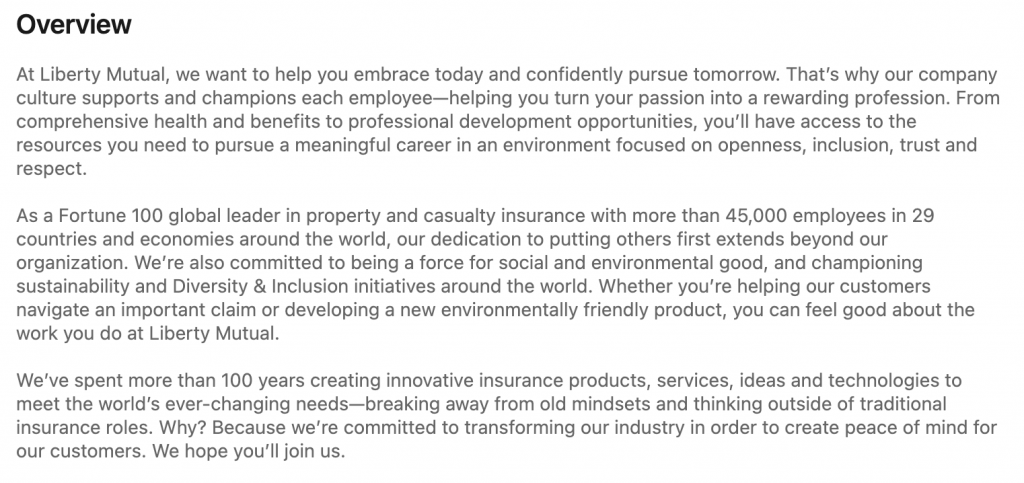 When writing your description, keep important keywords in mind and incorporate them where it feels natural. Both LinkedIn and Google will be scraping your LinkedIn company page for information and will use these keywords to determine when and where to display your content to users.
In the end, focus on authenticity and put yourself in the shoes of someone searching for insurance agencies, brokers and other organizations within your industry. Potential employees, direct customers and even competitors might have their eyes on your description.
How to Nail Your Visual Branding
When it comes to visual layout, LinkedIn is a straightforward platform, but that doesn't mean you should ignore opportunities for visual branding. Make sure to upload a high-resolution image of your organization's logo that fits the square format on LinkedIn without cutting off any edges.
Don't forget to make use of the cover photo, too. You need more than just the preset LinkedIn banner if you want to make a visual impression. Cover photos must be 1,128 x 191px. When choosing or designing a banner image, remember that your logo will be oriented over the left side, so don't put any text or important images where they could be covered up. You can incorporate other aspects of your company's branding here, like your tagline, a staff photo, or picture of your offices.
Here's an example of a simple but effective LinkedIn branding strategy: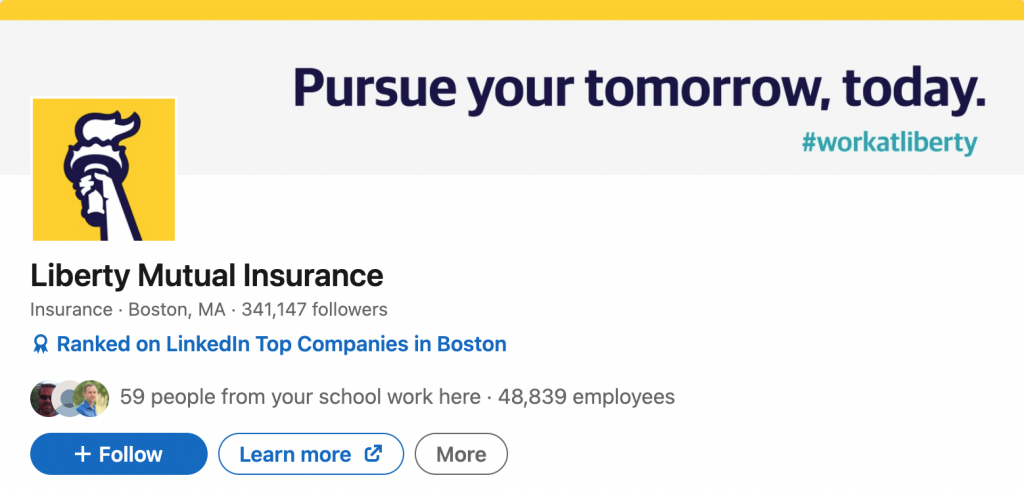 You can keep your cover photo the same or periodically change it to display timely information like season's greetings, community involvement or even "we're hiring!" Just remember to update it any time your company's branding changes so that your page stays in line with other marketing materials.
How to Add Employees to a LinkedIn Company Page
Getting your employees involved is perhaps the most important aspect of LinkedIn company page best practices. It makes total sense. LinkedIn aims to replicate our real world personal and professional networks into a digital space. When you add employees to a LinkedIn company page you open your organization to all the connections held by those individuals.
A prospective employee may visit your page and see that one of your current team members attended the same university as them or grew up in their local area. Even better, if they've already connected to one of your employees on LinkedIn, your company is more likely to be served as a result when they start their job search.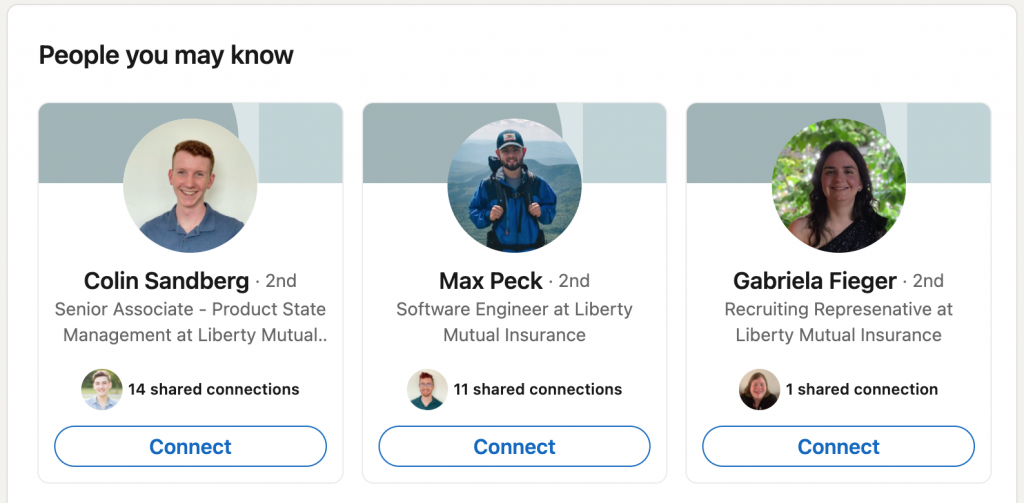 There's no way to add employees directly from the page admin end so you'll need to reach out to your team directly. Send them a request to follow your LinkedIn company page and list your organization as their employer in their bio. They can do this through the experience section by typing in your company name and selecting the appropriate option as shown below.

If the company doesn't appear in the drop down, something is being mistyped and the page won't be linked to their profile. After you send out the request, check each employee's profile to make sure they have all added it properly.
Perfect Your LinkedIn Hiring Post
So, your LinkedIn company page is all set up with important details and you've started making connections through your employee network. But the purpose of this work is to find candidates for open positions on your team.
Of course, you can list a job directly through LinkedIn by choosing a budget to have your position listed on their job boards. But you can also use your new page as a platform for a free hiring post. If you're ready to start advertising your job openings, here's a few important tips for making a superb LinkedIn hiring post.
Use a visually striking and well branded image in your post. Posts that contain images are favored by the organic algorithm and are more likely to show up in feeds than plain text posts. We suggest using an original image when possible. For example, you could use a photo of your team or your offices. If needed, choose a stock image that feels authentic. Overlay your chosen image with "We're Hiring," or "Join Our Team," and the name of the position(s) you want to fill.
Keep your caption concise and be sure to include all important information such as the position title, job location, working hours, etc. You can also include a little about the type of person you're searching for, though you should save full qualifications for the job listing itself. One great way to stand out is to use emojis to create a short, bulleted list of desired skills and traits.
Never forget a call to action that let's interested candidates know what to do next. Have them visit a specific link on your website to learn more or ask them to email a particular address to apply.
Ask your current employees to like, comment, and/or share the hiring post. Every time your LinkedIn hiring post is interacted with by individuals, its organic reach on the platform is increased. Basically, the more your current employees engage, the more people will see your hiring post.
Pin the post to the top of your page. Once you've published your hiring post, you can use the three dots in the top right of the post to pin it to the top of your LinkedIn company page. This means it will be one of the first things people see when they visit your page.
You can repeat this strategy any time you have a new opening at your organization. Just remember to put yourself in the shoes of active job seekers. What information would they want to know? What would attract them to your business?
And remember to unpin or delete the post once the role has been filled to ensure that the information on your page remains up to date.
Bonus LinkedIn Tips for Businesses
We promised to cover the basic LinkedIn company page best practices with tactics that could take under two hours. But if you're looking to leverage your LinkedIn page even more for job prospecting and network building, we always have more to say!
Manually invite contacts to follow your page and begin to grow your network. Each page has a limited number of invites they can send within a week so spread them out.
Post other content and updates on your feed. Whether you post links to interesting articles, birthday wishes for employees, or insights from your team, you are showing you care about your industry and community.
Work on the personal side to grow your connections. When you, the admin, or your employees connect with new insurance professionals, you have the opportunity to promote your business. Do what feels natural and always keep in mind your growing network.
If you're interested in leveraging LinkedIn to get even greater reach on new job listings, consider reaching out to our recruiting team. We have ample experience performing personal outreach on the platform and running paid ads to get qualified candidates in front of you.